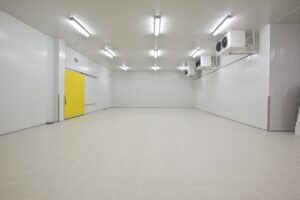 Walk-in Cooler Service in Brampton
Walk-in Cooler Service in Brampton – Trust the DHVAC Experts for your Walk-in Cooler Service.  We are one of the leading Companies that has installed, serviced and repaired many different types of refrigeration equipment from small reach-in coolers and freezers to warehouse refrigeration systems. We have years of experience in the industry with both small- and large-scale refrigeration. These Walk-in coolers help ensure food and ingredients stay fresh. Whether you need to Walk-in Freezer or Walk-in Cooler service, DHVAC Experts is here to help.
Avail the Best Commercial Walk-in Cooler Service in Brampton
You can count on our experienced team at DHVAC Experts to provide you with exceptional quality and commercial Walk-in Cooler and Installation service in Canada. However, being your premier Walk-in Cooler Installation Company, we can provide you with all your walk-in cooler service needs. With over 100+ experienced technicians, we provide commercial kitchen equipment repair services including installation as well as disposal.  We know safety is the No.1 priority along with keeping your reach in a cooler running at optimal service.
Contact us Now by dialling 705-970-7231-
If your work is related to the food industry, then you know the value of a commercial Walk-in cooler. These units are designed to protect your thousand dollars' worth of food inventory in a safe manner for the customers. However, it requires proper maintenance and repair to ensure its reliability. This includes the Commercial Walk Cooler Repair service require when any issue arises. Common issues which you can face is high-temperature, lack of power, constantly running motor, and ice in the drain pan. These issues will grow worse the longer you wait to schedule your repair service.
For more information, about the commercial Walk-in Cooler Service in Brampton, you can dial 705-970-7231 and talk to our technicians today!!!!!